BETWEENSCAPES
May, 2018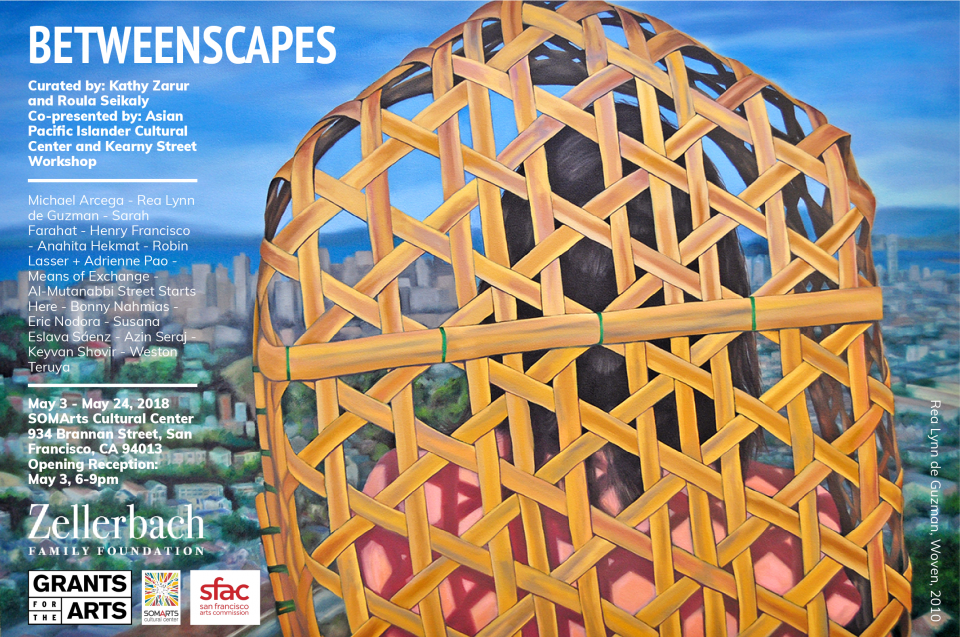 VISUAL ART EXHIBITION
SOMArts, San Francisco, U.S.
A new exhibition presented by API Cultural Center SF and co-presented by Kearny Street Workshop
Curated by Kathy Zarur and Roula Seikaly
SOMArts SOMArts Cultural Center 934 Brannan St. San Francisco, CA 94103
Opening Reception: May 3 (6-9pm), Closing Reception: May 24 (6-9pm)
BETWEENSCAPES | VISUAL ART EXHIBITION
What lies in the space between colonial power and indigenous resistance, diaspora and homeland, us and them, here and there? Betweenscapes presents the work of 12 artists that visualizes the in-between as a site of criticality, addressing unresolved histories and posing questions about colonialism, migration, and transnational solidarity.
PARTICIPATING ARTISTS
Michael Arcega
Rea Lynn de Guzman
Sarah Farahat
Henry Francisco
Anahita Hekmat
Robin Lasser + Adrienne Pao
Means of Exchange
Al Mutanabbi Street Starts Here
Bonny Nahmias
Eric Nodora
Susana Eslava Saenz
Azin Seraj
USAAF 2018 | FESTIVAL RECEPTION
The event on May 3 is the official reception for the 2018 United States of Asian America Festival (USAAF): Regenerative Community. Betweenscapes kicks off a series of arts events featuring the creative works of API artists in the SF Bay Area.
SOMARTS GALLERY HOURS
Tuesday–Friday
noon–7:00 p.m.
Saturday
noon–5:00 p.m.