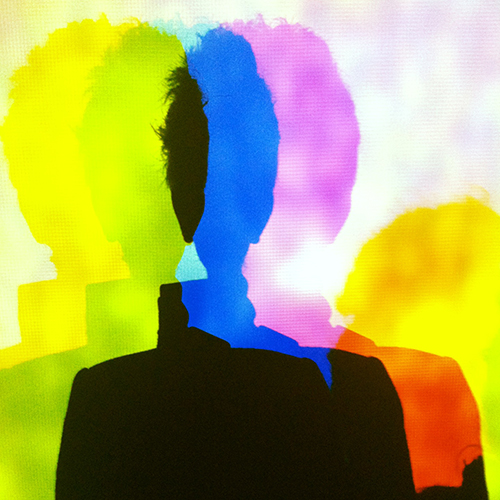 As an Iranian native, Canadian citizen, and American resident, I locate my art practice in a space between languages, cultures, and generations. My position as a Middle Eastern immigrant and woman of color living in the U.S. informs a perspective that reflects both the specificity of lived experience and the more universal human condition. My work grapples with the cultural and ideological gaps inherent to the experience of a transnational artist.
Using art, activism, and citizen journalism, I bridge genres and disciplines, bringing my ruptured worlds together to create an interdisciplinary discourse on the current international political climate of violence and enmity.  My practice includes engaging with video art, photography, and multimedia installation. My recent work has been an exploration of combining video projection with elemental materials, as a way to highlight personal narratives that give voice to global issues.  I believe in the tremendous potential this technological medium has to subvert and transcend the agendas of mainstream mass media through art, activism, collaboration, and global accessibility.
I am the recipient of the 2010 Roselyn Schneider Eisner Prize in Film. My work has been featured internationally in exhibitions and festivals including San Francisco Museum of Modern Art, Tate Liverpool, Open Space Arts Society, Victoria, (S8) Monstra De Cinema Periférico in Spain, Berkeley Art Museum, 23rd Annual Chicago Underground Film Festival, and Croatian Association of Artists, Zagreb.
Education:
Bachelor of Fine Arts with Honors Distinction (University of Victoria, Canada, 2007)
Master of Fine Arts (University of California Berkeley,US, 2010)
SELECTED EXHIBITIONS

2018, Project Landscapes: Objects, Collectives, Futures, SOMArts, San Francisco, US
2018, Echoes of Loss, Coconino Center For The Arts, Arizona, US
2017, Multimedia & Performance Festival, SOMArts, San Francisco, US
2016, Fort Nights, Fort Mason Center For Arts & Culture, San Francisco, US
2016, POP-UP PALMYRA, Phoebe A. Hearst Museum, Berkeley, US
2016, Locate Iran, Locate Project, Online Gallery

2014, Theory of Survival: Fabrications, Southern Exposure, San Francisco, CA

2013, In Our Hands, Croatian Association of Artists, Zagreb, Croatia
2013, Sublunar, Solo Exhibition, Martina Johnston, Berkeley, CA, US
2013, Persona, Maloney Art Gallery, College of Saint Elizabeth, US
2012,Temporary Structures, Walter and McBean Galleries, San Francisco, US
2012, In the CURRENTS: Bay Area Iranian/American Art Today, Asian Resource Center Gallery, Oakland, US
2012, MARKET FITNESS, Headlands Center for the Arts, US
2010, Shadowshop, San Francisco Museum of Modern Art, San Francisco, US
2010, Memory Mine, University of Santa Clara, Santa Clara, US
2010, No Right Angles, Berkeley Art Museum, Berkeley, US
2009, Time is a River: Colima Project, Martin Wong Gallery, San Francisco State University, US
2008-2010, Urban Jalousie, First International Roaming Biennial of Tehran
2007, Workbench – B Sides, the fifty-fifty, Victoria, Canada
2007, All Sorts, Audain Gallery, University of Victoria, Canada
2006, Female Body, Audain Gallery, University of Victoria, Canada
2006, Corporeality: Real and Imagined, Collaboration between University of Victoria, Canada and Universidad Veracruzana, Xalapa, Mexico
SELECTED SCREENINGS/FESTIVALS

2017, The Artists as Amateur, Tate Liverpool Film, Liverpool, UK
2017, Sea to shining sea, (S8) Monstra De Cinema Periférico, Coruña, Spain
2017, Sea to radiant sea, Crater Lab, Barcelona, Spain
2017, Crossroads Film Festival, San Francisco Museum of Modern Art, US
2016, 23rd Annual Chicago Underground Film Festival, Chicago, US
2015, Flying Broom: Ankara Women's Film Festival, Ankara, Turkey
2014, Female Eye Film Festival, Toronto, Canada
2014, Mission Eye & Ear, Artists' Television Access, San Francisco, US
2013, Berkeley Dance Project 2013: Aperture, Zellerbach Play House, UC Berkeley, US
2012, MENA Experimental: Recent Experimental Film and New Media from the Middle East, North Africa and Diasporas, The Arts at CIIS in collaboration with Artists' Television Access, San Francisco, US
2011, Create: The Artists Are Present, Berkeley Art Museum, Berkeley, US
2010, Eisner Film Award Screening, Berkeley, US
2009, Antimatter Film Festival, Victoria, Canada
2008, Casualties of Progress, Performing Arts Lodge, Vancouver, Canada
SELECTED PUBLIC INSTALLATIONS

2017, We Will Not Be Silent, Projection on Oakland Police Department, Courtesy of Disclose Collective
2013, RESISTANCE, Luggage Store Gallery, San Francisco, US
2013, Temescal Street Cinema, Oakland, US
2010, Pulse Interval, Open Space Art Society, Victoria, Canada